Twilight Empress:
A Novel of Imperial Rome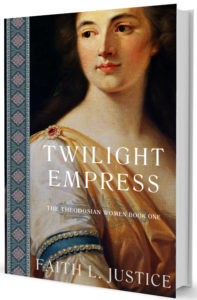 "…the prose is tight and clean throughout, and the characters' missions are always clear despite the complexities of the situations. A fun, fast read…"—Kirkus Reviews

"…Placidia is no Livia from I, Claudius, but she's no sensitive damsel, either. Placidia knows what she wants and is willing to do what she must to achieve her goals." — Historical Novel Society
"This is truly a sumptuous treat for bookworms and historical fiction lovers…I would recommend this to a friend. 100%!"—Clarissa Reads it All
One woman battles the coming Dark Ages.
Twilight Empress tells the little-known story of a remarkable woman: Placidia, sister to one of the last Roman Emperors. Roman Empress and Gothic Queen, Placidia does the unthinkable: she rules the failing Western Roman Empire. A life of ambition, power, and intrigue she doesn't seek, but can't refuse; her actions shape the face of Western Europe for centuries. A passionate woman as well as an empress, Placidia suffers love, loss, and betrayal. Can her intelligence, tenacity, and ambition help her survive and triumph over scheming generals, rebellious children, and Attila the Hun?
Author:  Faith L. Justice
Print ISBN:  978-06922460511
Library of Congress Control Number: 2016931966
Length:  392 pp
Price:  $13.99 (Print-discounts vary) $3.99 (ebook)
Available at:
Amazon.com (worldwide) US, UK, Canada, Australia
Barnes&Noble (print and ebook)
CreateSpace (print only)
iBooks (ebook only)
Kobo (ebook only)
Smashwords (ebook only)
---
---
Relevant Links
Full Reviews:
"…this is solid historical fiction, with full marks for a little-used time period and setting. It totally gets extra points for giving us a female lead character who's not written about to death (I'm looking at you, Anne Boleyn!)"
"The author does a fine job of delicately underlining the limits of female governance during the period, creating sympathy for the heroine, whose only option is to rule through men… A fun, fast read…"
"It's been a long time since I stayed up late to finish a book…I just couldn't stop reading and had this intense need to know how it all would end."
"Twilight Empress is a fast-paced historical novel that is filled with romance, political and courtly intrigue, and drama that will keep you turning the pages…"
"There was enough action so there was no dull moment…I can't wait to read the next one."
"In three words: Intriguing, dramatic, well-researched"
"I absolutely loved this book!…The author's writing is superb, and she did a wonderful job of bringing Placida to life for her readers."
"Twilight Empress is an utterly captivating read…I'm excited to read more by this author."
"…the author had a way of keeping my interest and want to keep reading."
"This is truly a sumptuous treat for bookworms and historical fiction lovers…I would recommend this to a friend. 100%!"
"TWILIGHT EMPRESS by Faith L. Justice is exactly the type of book I mention when people ask me why I love Historical Fiction so much."
"Overall, a breathtaking and immense journey through one inspirational and impactful woman's life in Rome."
"[Twilight Empress] is well researched and written with twisted plot developments and great characters…an excellent novel."
Guest Posts: