The Adventurous Girls Series, Book #1
Tokoyo, the Samurai's Daughter
"It was outstanding! You are swept away not only by the beautiful storytelling, but also the wonderful illustrations." –Bookish Delights

"The story is a winner from the start…"
–Middle Grade Minded
Most noble-born girls of Tokoyo's age learn to sing, paint, and write poetry.
Not Tokoyo.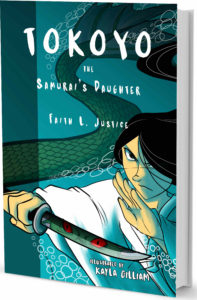 She's an adventurous girl! Tokoyo is the daughter of a samurai in fourteenth century Japan. Her father trains her in the martial arts. When he is away, she escapes to the sea where she works with the Ama—a society of women and girls who dive in the deep waters for food and treasure. But disaster strikes her family. Can Tokoyo save her father using the lessons she learned and the skills she mastered to overcome corrupt officials, her own doubts, and a nasty sea demon?
Author:  Faith L. Justice
Illustrator: Kayla Gilliam
Print ISBN:  978-0692677087
Library of Congress Control Number: 2017930973
Length:  122 pp
Price:  $6.99 (Print-discounts vary), $2.99 (ebook), $5.95 (Audio Book, discounts vary)
Available at:
Amazon.com (worldwide) US, UK, Canada, Australia
Audible (audio only)
Barnes&Noble 
CreateSpace (print only)
iBooks (ebook only)
iTunes (audio only)
Kobo (ebook only)
Smashwords (ebook only–all formats)
---
Tokoyo Book Trailer:
---
Tokoyo Audio Sample:
---
Links to full reviews:
January 24, 2018 – Three Show Saturday
"Tokoyo [comes] through as a strong, independent and courageous young woman…Overall an entertaining read that will impress readers ages 8 to 10."
January 17, 2018 – Bookish Delights
"It was outstanding! You are swept away not only by the beautiful storytelling, but also the wonderful illustrations. [It's] a remarkable illustrated middle-grade book that is incredibly inspiring and touching. I highly recommend reading it!
December 15, 2017 – Satisfaction for Insatiable Readers
"There are dangers, trials, struggles, surprises, and a whole lot of heart… I enjoyed the tale told, the traditions shared, and the values celebrated."
December 1, 2017 – Middle Grade Minded:
"The story is a winner from the start…It is both thought-provoking and likely to encourage young readers to seek more knowledge and a greater understanding of the world around them."
November 14, 2017– Robbie's Inspiration:
"My son, Michael, aged eleven years old…loved this book so much that he actually read on ahead by himself which is very unusual."
November 1, 2017 – Log Cabin Library:
"Tokoyo is both strong-willed and talented…Just by looking at the cover you can see the determination in her eyes. She is also quite brave and a lovely heroine. There are lovely black and white illustrations by Kayla Gilliam and I especially enjoyed the addition of the Cultural notes which provided the definition of the Japanese words used in the story as well as the Author's note at the end of the book."