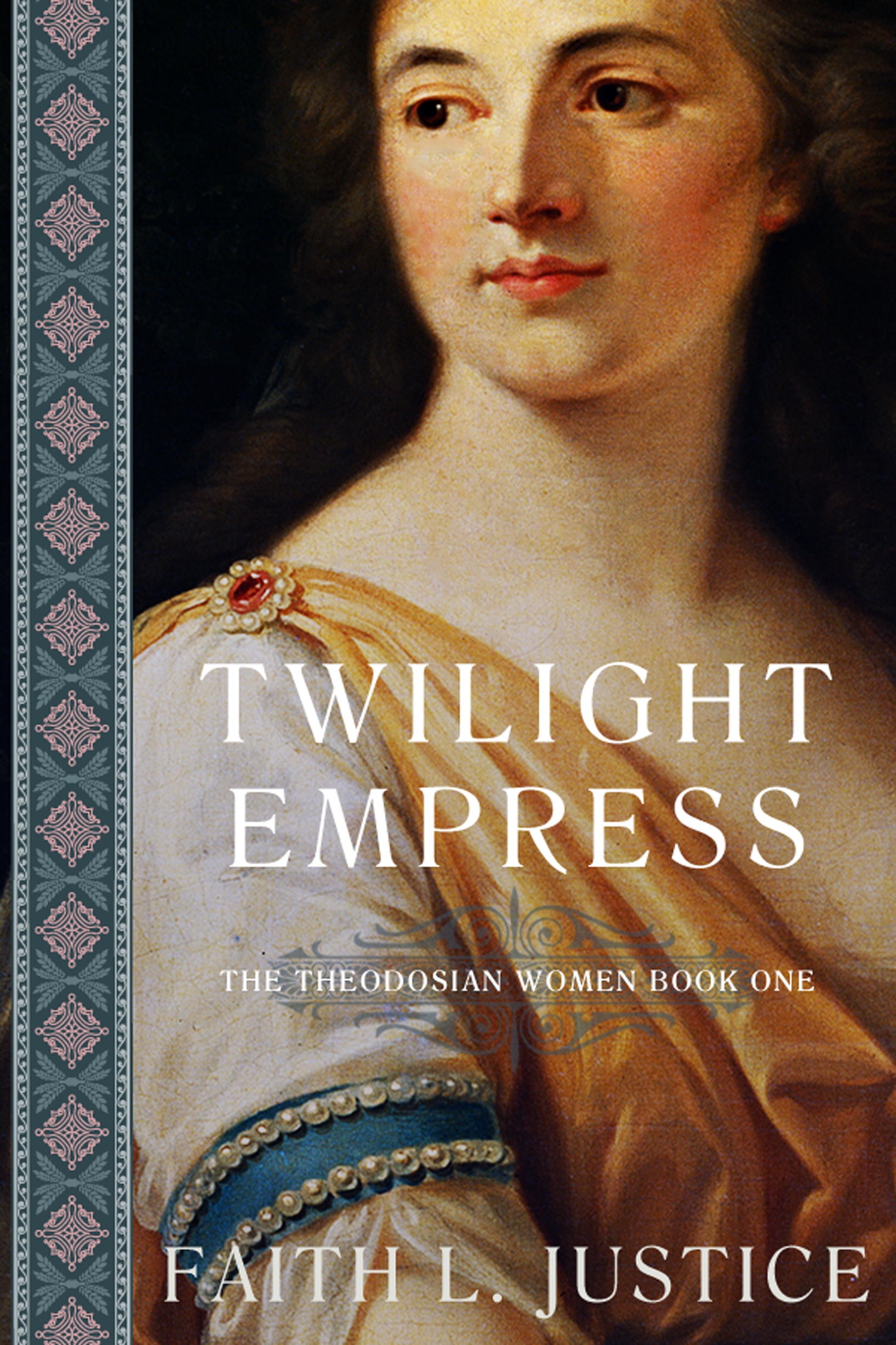 Twilight Empress
Theodosian Women #1
"…the book is an addictive, fun, fast read. Justice chooses her key moments wisely, weaving a decades-long narrative about Placidia's layered life as she rises to eventual leadership."
—Kirkus Reviews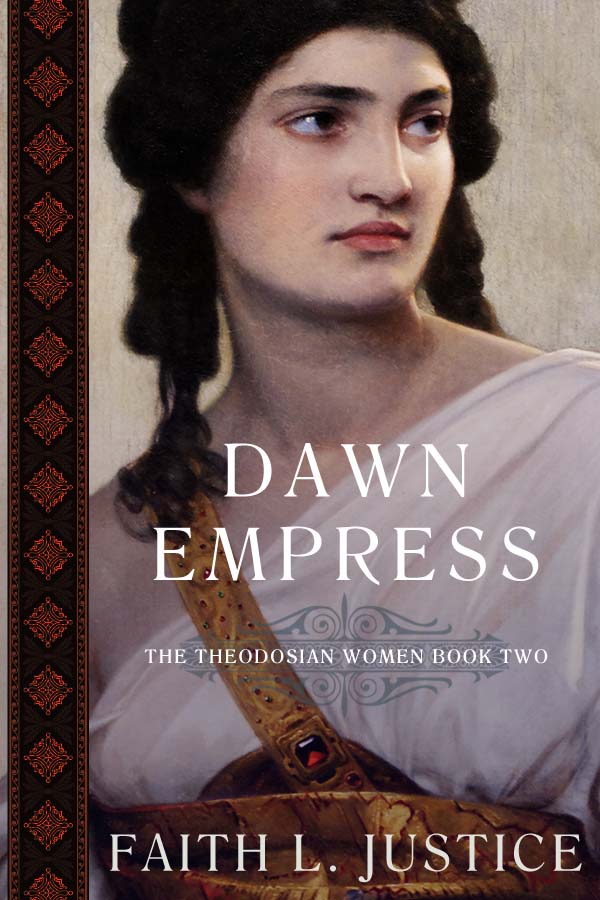 Theodosian Women #2
"I loved the cinematic writing and focused scenes...fast-paced and engaging, one of those novels that will keep fans of historical novels reading through the night."
—Readers' Favorite (5-stars)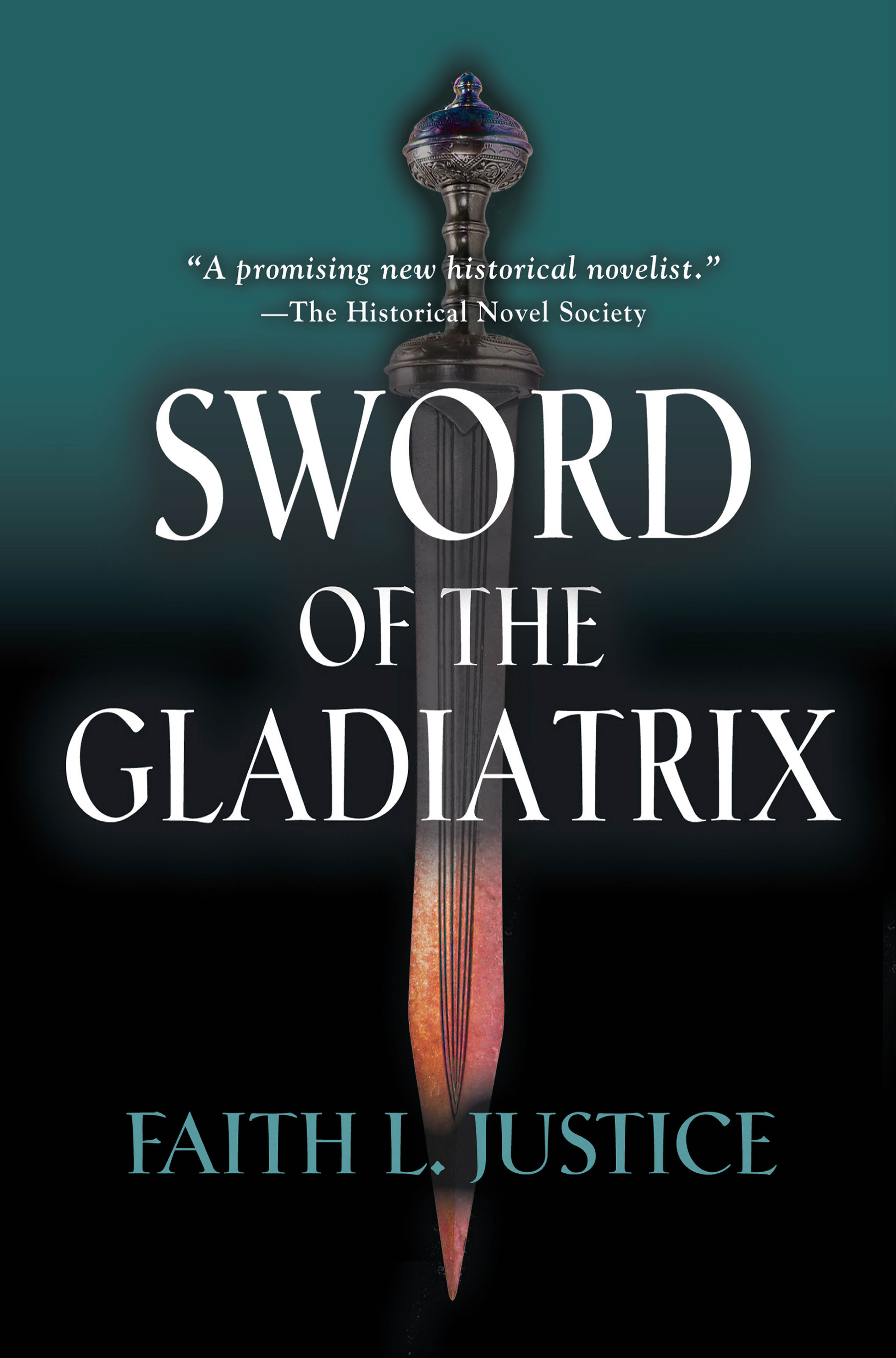 Sword of the Gladiatrix
"Readers will care very much about both these women—fans of Roman historical fiction should not miss this title."
— The Historical Novel Society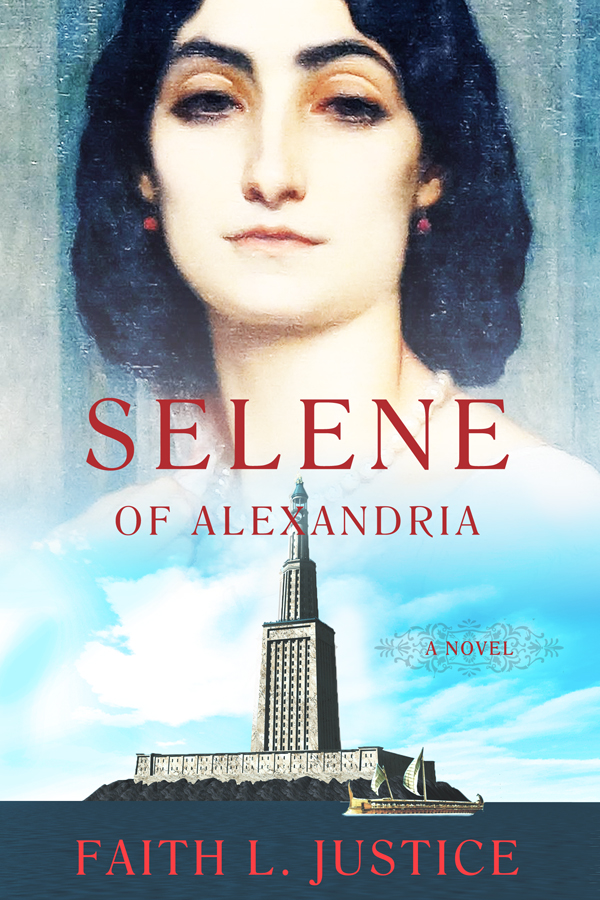 Selene of Alexandria
"Readers will be captivated. Fans of Gillian Bradshaw's classic The Beacon at Alexandria may especially enjoy Selene and find a promising new historical novelist who shares the same gift for wonderfully researched, vividly evoked, good old-fashioned storytelling."
—The Historical Novel Society
Friendly Fire: Working With a Critique Group

© 2005 by Faith L. Justice
Appears in Circles in the Hair
You're a neophyte (or as yet undiscovered) writer and going stir crazy in your quiet corner. The only people to read your stories are the hard-hearted editors who send you form rejects. With no feedback, you're not even sure they're people much less sure they've read your stories.
You can't show your stuff to your mother (too much gore/sex) or your significant other (too much insight into your twisted soul) or—God forbid—your children ("Ah, man, why can't you be a normal mom/dad?") What are you going to do? Read another book on writing? Hire that critiquing service from the back of a matchbook? How are you going to improve?
When I hit that wall twelve years ago, I took a class at The New School that changed my (writing) life—Writing Science Fiction and Fantasy, taught by Shawna McCarthy a former editor at Asimov's Magazine. The class was helpful, but it was what happened afterward that was significant. Thirteen of us decided to form a writer's group.
"Oh, no!" you say. You've heard horror stories about writer's groups—sadists who delight in disemboweling the member's beloved creations and laughing at their pathetic attempts at story telling—sycophants who worship at the feet of a Master (someone who published something three years ago)—Algonquin wannabees who drink and talk about writing but never actually write.
Okay, we plead guilty to lesser charges. We definitely critique each other's work, but rarely laugh at it, unless the story is intentionally funny. We occasionally show up en masse at book signings by favorite authors, but we never bring animal sacrifices and recently the readings have been by our own members. And yes, "Circles in the Hair" (a.k.a. CITH) has a definite social element. What makes us different from those other groups is the driving force behind everything we do: We strive to constantly improve our writing—individually and as a group.
We feel it's important that the whole group is progressing and single members are not being left behind or stifled. We bring in articles and books on writing, share sample copies and market information, and invite guest speakers to our meetings. In our third year we hired Nancy Kress for a weekend workshop which gave us, collectively, a major kick in the pants. Many of us have taken Terry Bisson's course on Science Fiction and Fantasy writing and brought back his sage advice. Members aren't required to attend anything that costs money, but when we can afford it, most of us jump at the chance to learn something new.
When we started, our members had a wide range of experience from rank amateur (me) to published story and book author (Gerard Houarner.) We were—and still are—an eclectic group, varying in age, race, gender, culture, and jobs which provides for wonderfully diverse feedback. We constantly learn from each other and, through individual perseverance, the quality of our writing has improved exponentially over the years. All of us have now been published (books as well as stories) and several have garnered awards.
So what makes us "successful?" I'd like to say that we're brilliant writers and perceptive readers, but the truth is probably closer to the fact that we work hard and glory in creative anarchy. We operate on consensus. It's slow (it took us over a year to come up with a name) but it guarantees everyone's buy-in. We try to keep things practical and informal—we make rules only when we all absolutely feel we need one. Here are a few on which we all agree: 
We volunteer our stories. No required writing unless no one brings in a story for critique at the next meeting. In that case, everyone brings in an original piece based on an exercise  to be read aloud at the next meeting. This doesn't happen very often, because we hate exercises. But even things we hate can be good for us (remember broccoli?)—nearly every member has had an exercise story published.
We take turns giving our critiques. We review stories between meetings and prepare written remarks. During the meeting we take turns verbally summarizing our review concentrating on structure, style, character, plot, etc. as well as our gut reactions. Each member presents their critique without interruption from others and the author gets to rebut at the end. 
"Author is God!" is a reminder that members are free to ignore any and all group gripes. However, we have learned the hard way that when most CITHians turn thumbs down, the editors do too. 
We point out what works as well as what doesn't. Compliments are graciously accepted, but when we do find a flaw in a story we try to provide a solution or alternative. Some gentle humor at the author's expense is allowed—"'She woke up with a jerk.' What was his name?" —but the members as a group do not tolerate personal attacks from others.
So that's it? Just get a group of people together to share writing and advice and you're guaranteed to be published? Sounds simple.
Well, maybe not that simple. Life with a writer's group takes work, just like any relationship. Together we've weathered birth, death, marriage, divorce, job changes and loss, and a nine-hour van trip. The van trip almost did us in. Along the way we've found some rituals and practices that help us get along.
We keep a journal of our meetings, important accomplishments, and doodles. We proudly bring in copies of our personal rejection slips to add to "the book." It's more fun to bring in an acceptance letter, but rejections are celebrated as proof that we're out there trying.
The first part of our meeting is strictly business. Afterwards we eat and drink, continue our discussions, get additional advice, and catch up on our personal lives. CITH has evolved some annual events (anniversary, Shakespeare, and holiday parties) where families and friends join in the writing, reading, and acting. That way they don't get too jealous of the alternate Thursday night revels.
We're starting our seventeenth year with seven of the original twelve still with us and seven new members drawn from classes and other (failed) writing groups. We're a mature group, but still evolving. We're all on email and we now save trees by sharing our work and markets electronically. About a third of us have completed or are working on novels so we are experimenting with how to critique longer works or works in progress. Some of us branched out into illustration, non-fiction, screenplays, and other genres. It's exciting!
So is a writer's group for you? Many fine writers do perfectly well without one, but for me it's been a blessing. We've supported each other with a sense of humor and empathy. CITH kept me writing in the face of rejection and the pressures of job and family. Like my fellow CITHians, I've taken shots for my writing, but I keep in mind that it's friendly fire.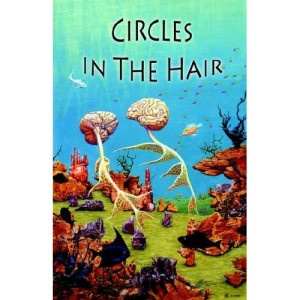 "Enjoy this gourmet sampling of the boldest and most accomplished of today's new voices in Fantasy, SF and Horror. Circles in the Hair a delight to read."—Terry Bisson, Hugo and Nebula Award winning author
Author's note: CITH published its first collection of stories titled—what else?—Circles in the Hair available FREE in all ebook formats at Smashwords. Five of the stories earned Honorable Mention in The Year's Best Fantasy and Horror: Nineteenth Collection edited by Ellen Datlow.