Hypatia, Lady Philosopher of Alexandria
Who was she?
A brilliant young mathematician and scientist, murdered by a religious mob?
An aging academic taken out by a political enemy?
A sorceress who kept the governor and people of Alexandria in thrall through her satanic wiles?
Did she discover that the earth circled the sun a thousand years before Copernicus or was she merely a gifted geometry teacher?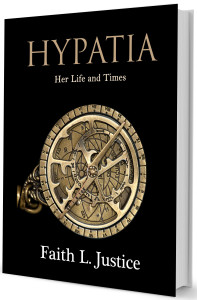 Over the years, I've researched and written extensively about Hypatia and her times. Two years ago, I collected that writing in the book Hypatia: Her Life and Times. Last spring, Radio for the People interviewed me about Hypatia and my book. You can listen to the podcast here. Several (but not all) of those articles are available on my website and  blog. Here are links to all things Hypatia on my blog from oldest to newest:
Here are the links to the "Her Times" portion of the book: