Leadership in Turbulent Times
by
Doris Kearns Goodwin
Blurb:
"In Leadership in Turbulent Times, Goodwin draws upon the four presidents she has studied most closely—Abraham Lincoln, Theodore Roosevelt, Franklin D. Roosevelt, and Lyndon B. Johnson—to show how they recognized leadership qualities within themselves and were recognized as leaders by others. No common pattern describes the trajectory of leadership. Although set apart in background, abilities, and temperament, these men shared a fierce ambition and a deep-seated resilience that enabled them to surmount uncommon hardships. At their best, all four were guided by a sense of moral purpose. At moments of great challenge, they were able to summon their talents to enlarge the opportunities and lives of others."
My Review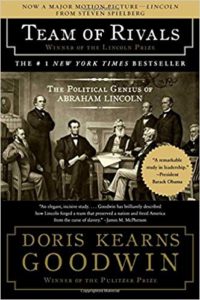 I really looked forward to this book. I've studied leadership—not at the presidential level, but I have worked with several Fortune 50 CEOs and dozens of executives in my professional career. I also taught leadership and change management to ambitious young managers in MBA courses. Effective leadership is key to a company/country's ability to survive and thrive. In addition, I've had an abiding interest in the lives of Lincoln; and Teddy, Franklin, and Eleanor Roosevelt and have read several biographies about them. Although I've seen Doris Kearns Goodwin on TV frequently, the only one of her books I'd read previously was Team of Rivals, an 890-page tome about Lincoln's time in office, which I thoroughly enjoyed. So I looked at Leadership in Turbulent Times from two perspectives: Was it good history/biography? Was it good leadership analysis?
My answer to both questions (with one caveat) is "Yes!"
History/Biography
Goodwin organizes her book around four presidents and their leadership during four crises: Abraham Lincoln and the Emancipation Proclamation, Theodore Roosevelt and the coal strike, Franklin Roosevelt and his first one hundred days during the Great Depression, and Lyndon Johnson and the Civil Rights Act in the aftermath of John F. Kennedy's assassination. She takes each man in turn and explores three themes. Part I deals with their early days and how they recognized their own ambitions. Part II shows how they overcame significant early obstacles: crippling personal losses, physical and mental setbacks, and political defeats. Part III details how they met the challenges of their presidencies with specific leadership strategies based on their own gifts, personalities, and experiences.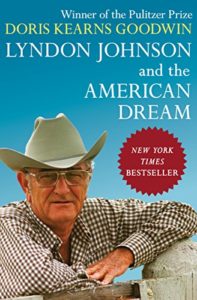 Because I have considerable knowledge of Lincoln and the two Roosevelts, their sections in Parts I and II, felt like visiting old friends. Goodwin reminded me of much that I already knew and admired about these three men. Reading their stories was like eating comfort food—familiar with a touch of nostalgia. The outlier is Johnson. I lived through the Kennedy/Johnson era, so this time period doesn't feel like "history" to me. I was on a campus torn apart by the Viet Nam war and mourned the loss of student lives in clashes with state troopers. My feelings toward Johnson and his leadership during this period—even fifty years later—was mixed, to say the least. I knew a few details of Johnson's early life and trials and had a vague notion of his contribution to the Civil Rights and Voting Rights Acts, but most of what Goodwin told me was new and interesting. It made me want to pick up Goodwin's biography Lyndon Johnson and the American Dream. Mission accomplished.
Leadership
In Part III of Leadership in Turbulent Times, Goodwin delves into the titular problems these four men met and overcame during their presidencies. She analyzes each man's actions in meeting an external crisis step by step and labels each: Lincoln's transformational leadership, Teddy Roosevelt's crisis management, Franklin Roosevelt's turnaround leadership, and Johnson's visionary leadership. Here Goodwin falters just a bit. If she didn't consciously realize it, she unconsciously acknowledged it. Teddy's section is titled "crisis management" rather than "crisis leadership."
The example of the coal mine strike she uses, although foundational to Teddy's progressive agenda, did not rise to the level of exceptional leadership. He went on to accomplish much more significant change. In this crisis, Teddy displayed mastery of the kind of communication and management skills we hope all presidents (and marriage counselors) would bring to their positions. He brought two seemingly irreconcilable groups (labor and management) together to make the country better for ordinary people. He did a good job, but Lincoln and FDR faced greater obstacles with far more serious consequences in the case of failure.
Likewise Johnson's challenge—on the surface—didn't seem to rise to the level of "visionary leadership." However, Goodwin changed my mind. She laid the foundation for Johnson's personal transformation to civil rights champion in the earlier sections. Although she worked in the Johnson administration and helped him write his memoirs, Goodwin is honest about Johnson's abject failure in leadership in prosecuting the Viet Nam War. She chose to write about his early successes in domestic matters.
And what prodigious successes they were! It was fascinating to see how masterfully Johnson planned and executed his vision. He managed, in painstaking detail, his major legislative accomplishments in the wake of tragedy and the face of obdurate racist opposition in his own party. He skillfully used every parliamentary trick and personal tool in his box to influence, cajole, out maneuver, and sometimes bribe reluctant law makers. His accomplishments in passing the Civil Rights and Voting Rights Acts—in concert with the sacrifices of the wide-spread, grass-roots, civil rights movements of the 1960's—significantly and enduringly changed society for the better.
Epilog
Goodwin wraps up her book with a short epilog titled "Of Death and Remembrance" where she brings each man's life to a close, exploring their thoughts on their enduring legacies. She says,
"While their personal stories came to very different ends, they were all looking beyond their own lives, hopeful that their achievements had shaped and enlarged the future. The fame they craved, the recognition they sought, bears little resemblance to today's cult of celebrity. For these leaders, the final measure of their achievements would be realized by their admittance to an enduring place of communal memory."
I thoroughly enjoyed this book, both for its history and leadership lessons. I recommend it for both. Doris Kearns Goodwin discusses her book Leadership in Turbulent Times in a six-minute segment with Judy Woodruff of PBS News Hour in the video below. Check it out:
The Details:
Title: Leadership in Turbulent Times
Author: Doris Kearns Goodwin
Publisher:Simon & Schuster; First Edition/First Printing edition (September 18, 2018)
Format: Hardcover (496 pages), Paperback, eBook, Audio book
ISBN-10:1476795924
ISBN-13:978-1476795928
About the Author
DORIS KEARNS GOODWIN's interest in leadership began more than half a century ago as a professor at Harvard. Her experiences working for LBJ in the White House and later assisting him on his memoirs led to her bestselling "Lyndon Johnson and the American Dream." She followed up with the Pulitzer Prize–winning "No Ordinary Time: Franklin & Eleanor Roosevelt: The Home Front in World War II." She earned the Lincoln Prize for the runaway bestseller "Team of Rivals," the basis for Steven Spielberg's Academy Award-winning film "Lincoln," and the Carnegie Medal for "The Bully Pulpit," the "New York Times" bestselling chronicle of the friendship between Theodore Roosevelt and William Howard Taft. She lives in Concord, Massachusetts.