Exceptional Women in History Part II:
She Captains, Scientists, and Musicians
Last week in Part I, I introduced you to three books of exceptional women in history which primarily covered royals and aristocrats. This week we look more closely at (un)common women in three books. Readers and writers alike will find inspiration here!
She Captains: Heroines and Hellions of the Sea
by 

Joan Druett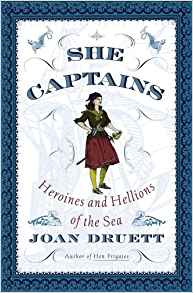 This one sat on my TBR shelf for far too long, but finally got its chance. First of all, I'd say the title is misleading. I expected a book of She Captains to be primarily stories of women who captained ships and lead crews. Druett starts off with 78 pages on ancient queens who sailed with their own navies, female Vikings, and actual female pirates. The rest of the book is devoted to women who are captains' wives or mistresses, victims of pirates, or involved in the business end. Their stories are fascinating and I enjoyed hearing about them, but that is not what I expected.
The writing is a bit dry and some of the stories seem like padding. I could have done without the chapter on women being captured by Barbary pirates and the space given to Lady Hamilton (Admiral Nelson's paramour), neither of which seem to fit the premise of the book. What did work was the astonishing number of documented women who went to sea as crew disguised as men; or accompanied their husbands on war ships, whalers, or exploratory expeditions. I had no idea that captains regularly took their wives and children with them on long voyages. I'd always suspected that a number of women made their livings from the sea, especially wives, widows and daughters of seaman, fisherman, and shipping magnates; and was glad to have that confirmed. From the chapter on Ice Queens:
"The winters of the last two decades of the nineteenth century regularly discovered a dozen or more whaling vessels snugged up in Pauline Cove at Herschel Island in the western Arctic, all neatly roofed over and with the sides banked up with blocks of snow. Quite a town would be established around these strange residences, for native, intrigued by the exotic community, build their snow houses near by on the ice. Inside the ships, it was cozy and both inside and outside it was sociable…In the 1894-95 season there where no fewer than seven European females at Herschel Island…It was a strangely formal existence, with dances, whist parties, costume balls, concerts (one concert party being called "The Herschel Island Snowflakes"), and amateur theatricals. Dinner parties were staged, complete with amazing menus. One included "Lobster salad & olives, Oyster Pate with French peas" and "Bartlett Pears, with citron & sponge cake" for dessert."
The book seems well-researched. Druett doesn't use footnotes or offer a comprehensive bibliography, but does have a sixteen-page chapter by chapter list of bibliographical notes and a thirteen-page index. I'd recommend this book for anyone who needs to have their consciousness raised about women and the sea (it wasn't just the boys sailing out there!) It's the kind of book, that doesn't quite rate as a research book, but can inspire additional research into the stories of the individual women covered.
Headstrong:
52 Women Who Changed Science-and the World
by

 Rachel Swaby
"Covering Nobel Prize winners and major innovators, as well as lesser-known but hugely significant scientists who influence our every day, Rachel Swaby's vibrant profiles span centuries of courageous thinkers and illustrate how each one's ideas developed, from their first moment of scientific engagement through the research and discovery for which they're best known. This fascinating tour reveals these 52 women at their best—while encouraging and inspiring a new generation of girls to put on their lab coats."
This is a good book of its kind: a survey of women who made significant contributions to math, science and engineering. The author intended to highlight lesser known women–those whose accomplishments were downplayed in history or, in some cases, outright stolen by male colleagues. (So no Madam Curie, but her Nobel Prize-winning daughter is included.) A good example of how these women are overlooked:
"In 2013, the New York Times published an obituary for Yvonne Brill. It began: "She made a mean beef stroganoff, followed her husband from job to job, and took eight years off from work to raise three children." It wasn't until the second paragraph that readers discovered why the Times had devoted several hundred words to her life: Brill was a brilliant rocket scientist who invented a propulsion system to keep communications satellites in orbit, and had recently been awarded the National Medal of Technology and Innovation."
This happened in 2013! Sheesh! I'll spare you the feminist tirade, but this is why we need Women's History Month. Too bad it can't be Women's History Year.
By their nature, these kinds of books can only give a summary of the life and work of each woman, so anyone who wants to find out more than what can be conveyed in 4-5 pages, must look elsewhere. The author does a good job of sketching the background, obstacles, and accomplishments of each woman. Her writing is clear and she explains the nature of the science/math in a way that lay readers can understand.
My only complaint is the dearth of woman of color–only three of the fifty-two and one of those died at age 24 before her career could even get started. I can't help thinking that there were more overlooked women of color out there. With that exception, this was a satisfying survey of women in science.
Sounds and Sweet Airs:
The Forgotten Women of Classical Music
by 

Anna Beer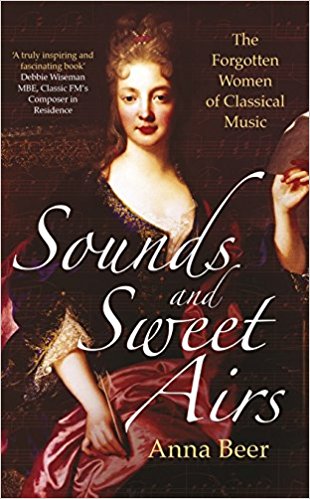 "Sounds and Sweet Airs reveals the hidden stories of eight remarkable composers, taking the reader on a journey from seventeenth-century Medici Florence to London in the Blitz. Exploring not just the lives and works of eight exceptional artists, historian Anna Beer also asks tough questions about the silencing of their legacy, which continues to this day. Why do we still not hear masterpieces such as Hensel's piano work "The Year," Caccini's arias and Boulanger's setting of Psalm 130? A long-overdue celebration of neglected virtuosos, Sounds and Sweet Airs presents a complex and inspirational picture of artistic endeavour and achievement that deserves to be part of our cultural heritage."
I have a number of these books about forgotten/unknown female pioneers in a variety of professions. Most have a light-hearted chatty tone with brief biographical sketches. This book was different. Beer is a serious scholar who devoted over 300 pages to just eight women composers from 17C Florence through 20C Britain:
Francesca Caccini
Barbara Strozzi
Élisabeth Jacquet de la Guerre
Marianna Martines
Fanny Hensel (née Mendelssohn)
Clara Schumann
Lili Boulanger
Elizabeth Maconchy.
She explores their careers in relation to their families, the political situation, role of women, and musical developments of the time. It's a fascinating journey through musical history and women's role in it. Unfortunately, I'm not a musician so I skimmed most of the musical theory discussion. Musically knowledgeable people will find this part of the history just as fascinating as the lives of the women. In spite of my ignorance, I enjoyed the stories of these remarkable female artists.
In conclusion.
I hope you've enjoyed these two posts covering exceptional women in history. (
Part I
can be found
here
, if you missed it.) There is a treasure trove of inspiration for reader and writer alike in these six books and others like them. If you have a favorite book of this type, please let me know in the comments. I'm always on the lookout! Thanks!