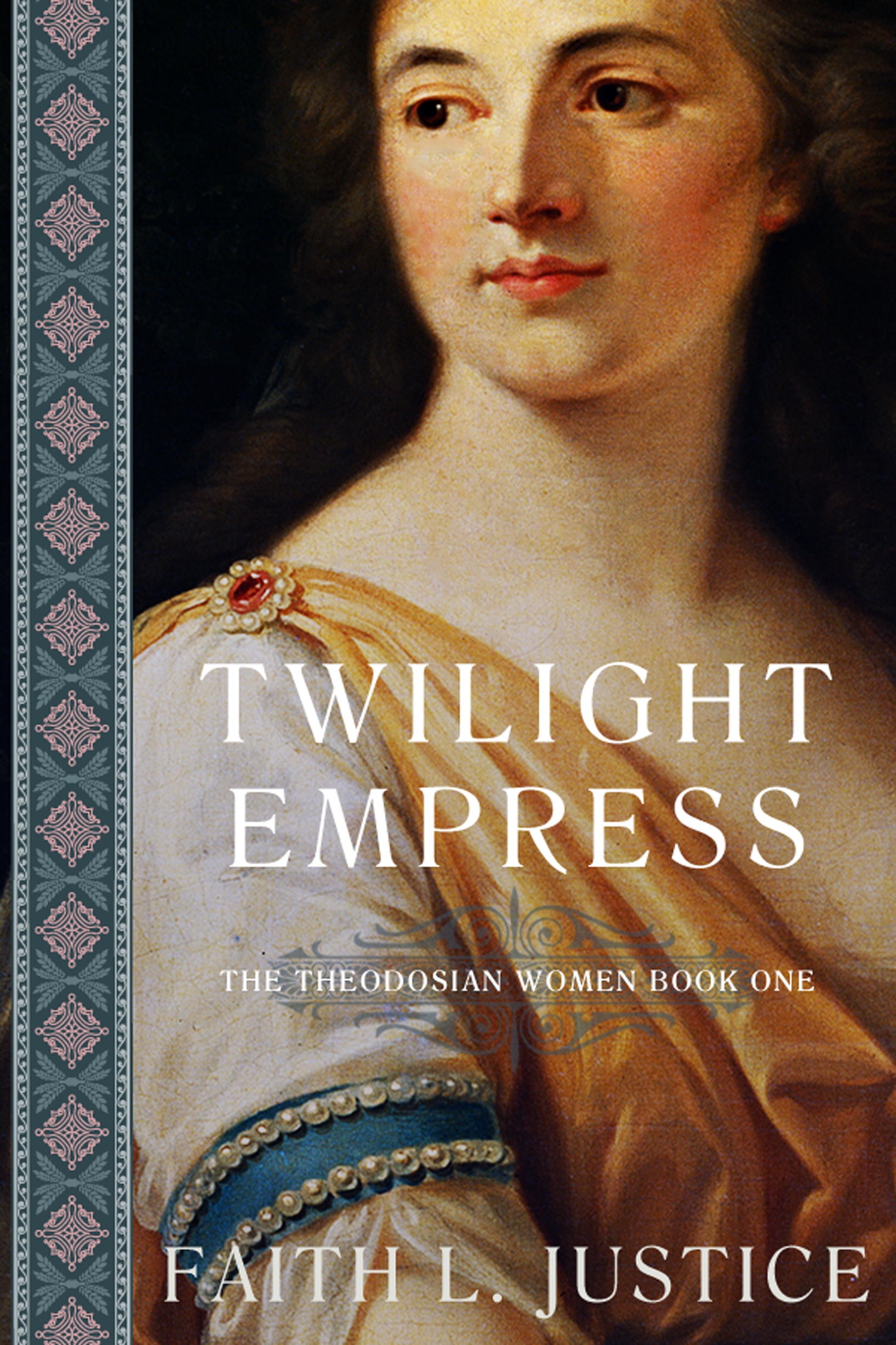 Twilight Empress
Theodosian Women #1
"…the book is an addictive, fun, fast read. Justice chooses her key moments wisely, weaving a decades-long narrative about Placidia's layered life as she rises to eventual leadership."
—Kirkus Reviews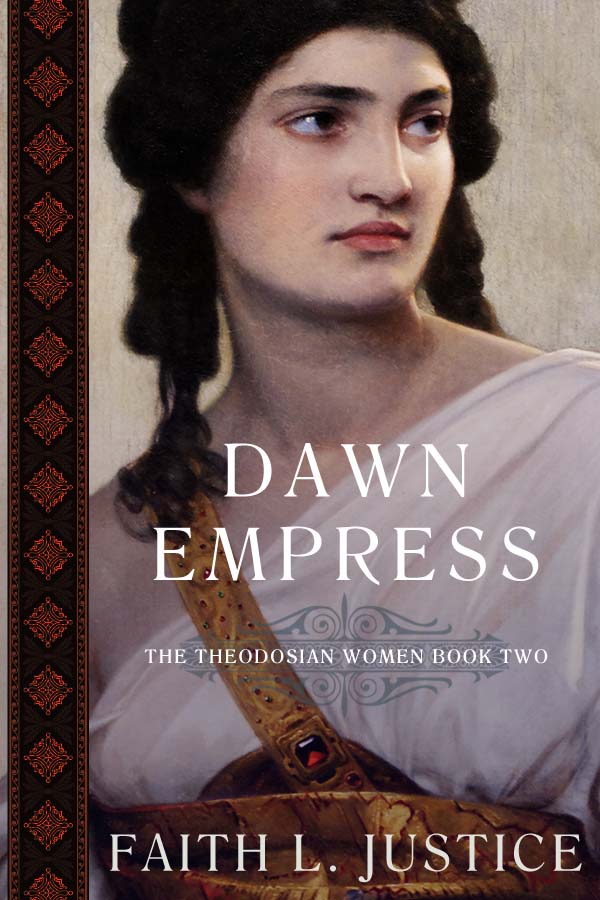 Theodosian Women #2
"I loved the cinematic writing and focused scenes...fast-paced and engaging, one of those novels that will keep fans of historical novels reading through the night."
—Readers' Favorite (5-stars)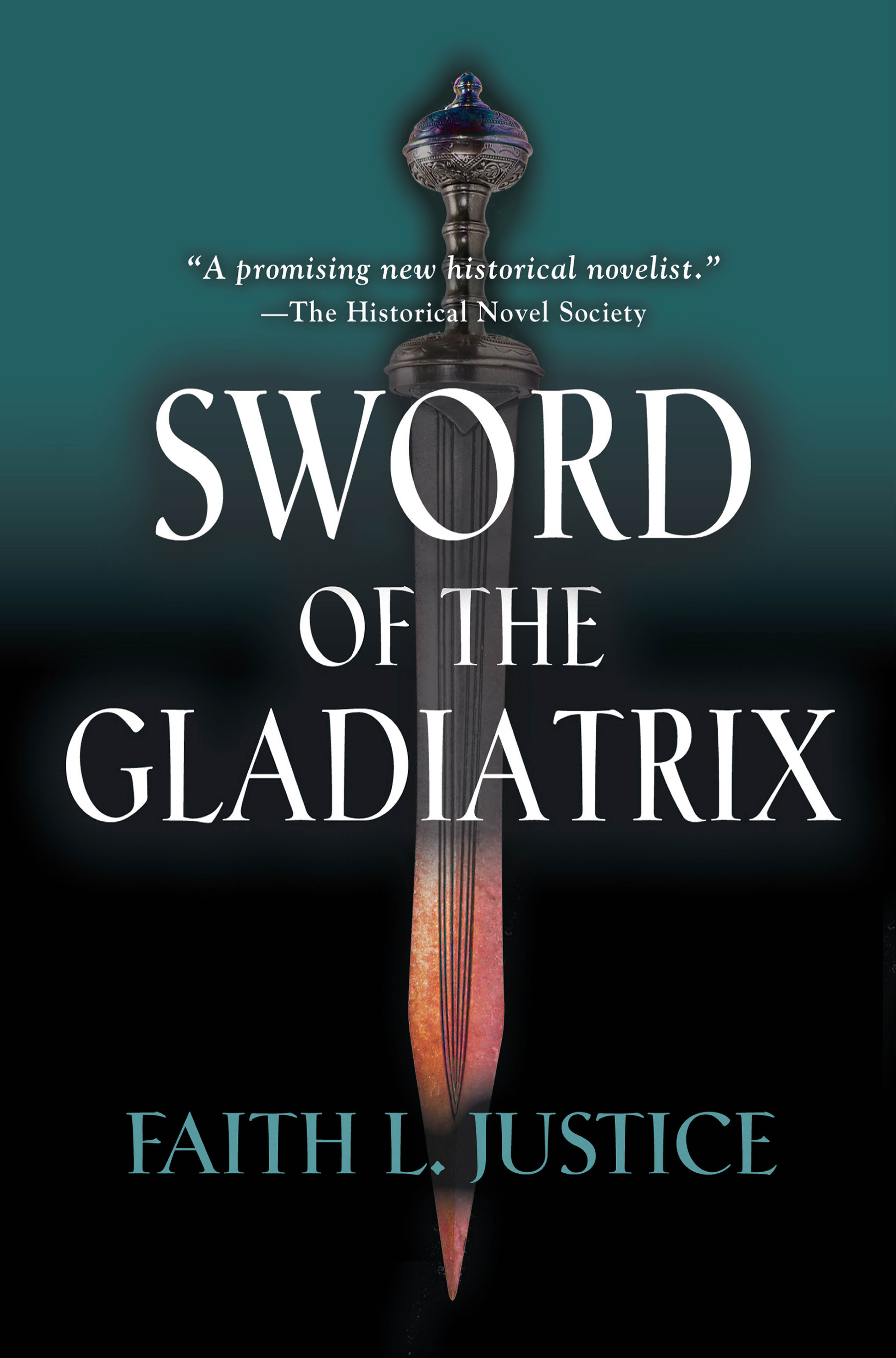 Sword of the Gladiatrix
"Readers will care very much about both these women—fans of Roman historical fiction should not miss this title."
— The Historical Novel Society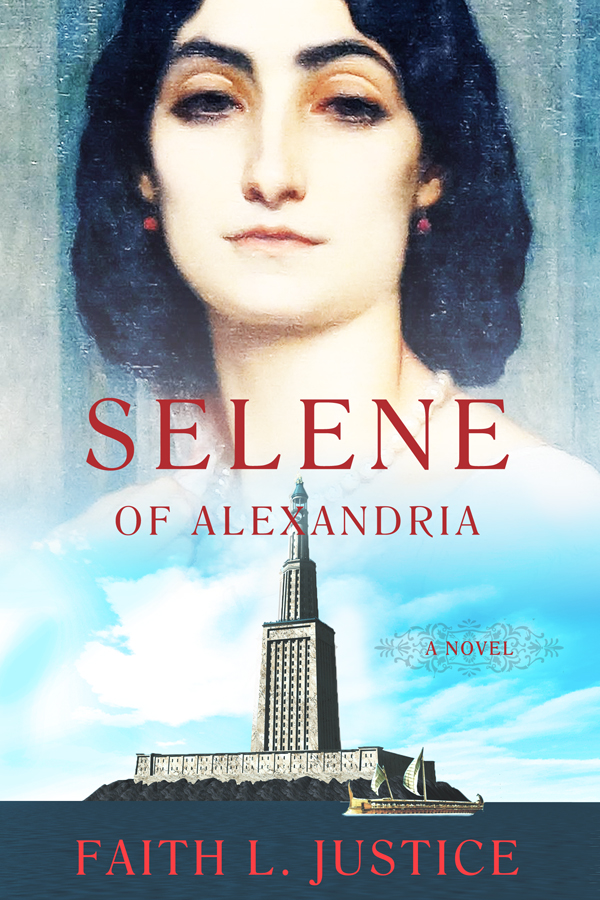 Selene of Alexandria
"Readers will be captivated. Fans of Gillian Bradshaw's classic The Beacon at Alexandria may especially enjoy Selene and find a promising new historical novelist who shares the same gift for wonderfully researched, vividly evoked, good old-fashioned storytelling."
—The Historical Novel Society
Archive of Author News/Events
2010 – 2017
July 2018
Only one week left. Sale ends July 31!
Smashwords is holding its annual Summer/Winter Sale with thousands of authors and publishers giving drastic discounts for their books. All my books are on sale: novels for only $2.99, shorter works are $1.50 or FREE. If you haven't sampled my stuff, yet, here's a great opportunity to try it. All my novels for less than a coffee and muffin. My whole body of work for less than a martini in Manhattan (without the hangover)! Check it out and don't forget to add the discount coupon at checkout. Sale runs through July.
May 2018
Twilight Empress hits it big in Belgium. Thanks to Bookfever for the lovely review: "It's been a long time since I stayed up late to finish a book…I just couldn't stop reading and had this intense need to know how it all would end."
February 2018
Raggedy Moon Books put out a book trailer for Tokoyo. It looks gorgeous!
January 2018 
A lovely review of Tokoyo at Three Show Saturday: "Tokoyo [comes] through as a strong, independent and courageous young woman…Overall an entertaining read that will impress readers ages 8 to 10."
A five-star review of Tokoyo, the Samurai's Daughter at Bookish Delights: "It was outstanding! You are swept away not only by the beautiful storytelling, but also the wonderful illustrations. [It's] a remarkable illustrated middle-grade book that is incredibly inspiring and touching. I highly recommend reading it!"
December 2017
a lovely review of Tokoyo at Satisfaction for Insatiable Readers: "There are dangers, trials, struggles, surprises, and a whole lot of heart… I enjoyed the tale told, the traditions shared, and the values celebrated."
Another great review for Tokoyo at  Middle Grade Minded: "The story is a winner from the start…It is both thought-provoking and likely to encourage young readers to seek more knowledge and a greater understanding of the world around them."
November 2017
The Kirkus Review for Twilight Empress came in a winner! Kirkus is tricky and many authors have been severely disappointed. So, I'm pleased with their review: "…the prose is tight and clean throughout, and the characters' missions are always clear despite the complexities of the situations. A fun, fast read…"
Five-star review of Tokoyo, the Samurai's Daughter at Robbie's Inspiration blog. Thanks Robbie!: "My son, Michael, aged eleven years old…loved this book so much that he actually read on ahead by himself which is very unusual."
Lovely review of Tokoyo, the Samurai's Daughter at Log Cabin Library. Thanks, Brenda! "Tokoyo is both strong-willed and talented…Just by looking at the cover you can see the determination in her eyes. She is also quite brave and a lovely heroine…"
September 2017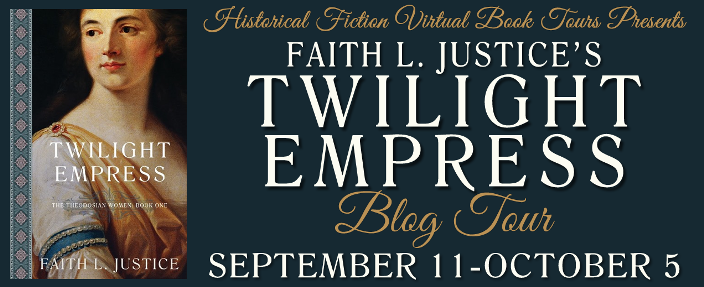 I'm on tour!
Follow me at these blogs for reviews, guest posts, interviews and giveaways:
July 2017
All my books (eBooks) are on sale or free at Smashwords.com through July 31 through their annual "Summer Winter Sale." Get all three of my novels for less than a Starbucks coffee. Sample all my short fiction collections and my newest children's book for FREE! Details here.
June 2017
May 2017
January 2017
I participated in a great panel on "Getting Into Print" at the NYC chapter of the Historical Novel Society on January 24. All the panelists had interesting journeys. The audience was attentive and asked great questions. Kudos for the folks who braved the monsoon to attend.
Hate the sound of your own voice? I'm getting used to mine. Go listen to me read a chapter from Sword of the Gladiatrix and let me know how mine sounds to you at The Lesbian Talk Show Book Clips.
November  2016
October 2016
May 2016
November 2015
October 2015
New post on my blog: A Day at the Pompeii Arena. What would it be like to sit in the stands during a day of gladiator games? Check it out!
September 2015
New post on my blog: Busting Gladiator Myths. I have to do something with all that research on gladiators. Here's what surprised me.
August 2015
 July 2015
I'm on tour!
Follow me at these HF blogs for reviews, guest posts, and interviews:
June 2015
I'm on tour! Follow me at these LGBT blogs for guest posts and interviews:
June 26-28 Historical Novel Society convention at Denver. See you there!
May 2015
I'm running a giveaway of Sword of the Gladiatrix on my blog. Stop by and leave a comment for your chance to win a copy!
It's finally here: Sword of the Gladiatrix is now available in print and ebook! It was supposed to be out last month, but there were some  problems with the cover. Well worth the wait though–it's gorgeous! Blog tours coming soon.
April 2015
"Boudica, Queen of the Iceni: Two Books" is up at my blog. Check out my review of two great books about the iconic Warrior Queen.
I was interviewed by Distinguished Lives for a podcast on Hypatia. I'll post again when the podcast goes live.
March 2015
Think you know the truth about Boudica, the warrior queen of the Iceni? There's a lot of myth making out there. Check out my blog post "Boudica: Warrior Queen" and find out what's known and what's not.
January 2015
I took the plunge and Slow Death and Other Dark Tales is now available in audiobook form. Considering it's less expensive than the print version, I'll be interested to see how it does. Available in all the usual places including Audible.com and iTunes.
 September 2014
New book review and a giveaway up at my blog. Hand of Fire by Judith Starkston is an engaging novel of the Trojan War. Stop by to win a copy!
Joined a writing process blog tour which was lots of fun. Check out my responses to four questions to writers that have been circling the globe on my blog.
August 2014
Major news! I started my own imprint. Raggedy Moon Books is now open for business. Check out the new website. I'd love to have your feedback. I'll also be renovating this site soon, switching from HTML to a WordPress theme.
My second collection of short fiction is now available in ebook form at all the usual outlets: Slow Death and Other Dark Tales. Looking for sparkly vampires or heroic werewolves? Sorry, you won't find them here. Humans–and the occasional ghost–are featured in these dark tales. Meet a grieving mother witnessing a death-row execution, a wronged bureaucrat condemned to a future drug rehabilitation center, an Alzheimer's patient trapped in his own deteriorating mind, a ghost with a mission of justice, and more in this collection of my best dark fiction.
July 2014
Hannah has her second book in the Twitter Who series out in both ebook and paper. If you like Doctor Who and Mystery Science Theater 3000, you'll love these books, as a New Whovian tackles the classic canon, 140 characters at a time. Twitter Who Volume 2: The Second Doctor by Hannah J. Rothman.
 March 2014
My annual Women's History Month article is about "The Other Lady Philosophers." Nine remarkable women who studied and taught philosophy before and after Hypatia.
November 2013
October 2013
A bit of Halloween fun: I posted my short story Samhain on my my blog for your holiday entertainment—for those who like their Halloween a bit on the dark side.
August 2013
Wonderful news! Hypatia: Her Life and Times ranked #20 in the "most popular, best selling ebooks on ancient history" at the iBook Store. My little collection of essays is in good company with Gibbon's Decline and Fall of the Roman Empire coming in #19. I could technically use the appellation "Best Selling Author", but think I'll wait for more lists to catch up.
 July  2013
 April 2013
It's here! Over a year ago, I put out an ebook Hypatia: Her Life and Times which has been downloaded over 1100 times. The print version is now available here (or order through any online or private bookstore).Thanks to everyone who checked out the book. I hope you enjoyed it. With the print version, I"ve added a modest price to the ebook, but anyone who can't afford it, can contact me through this website and I'll send you a free PDF copy.  Enjoy.
 March 2013
Two posts this month to celebrate women: Where Are All the Strong Women? where I discuss the perception that capable women in historical fiction appear too "modern."
It's Women's History Month! To celebrate, I've posted a review of a great book about two remarkable women journalists on my blog. Nellie Bly and Elizabeth Bisland traveled around the world by themselves going in opposite directions in 1898. Check out their exciting story in Eighty Days by Matthew Goodman.
 December 2012
Happy Holidays! It's the 1st Annual Historical Blog Hop. Over 30+ blogs are sponsoring giveaways of fiction, non-fiction, gift cards and more. Passages to the Past blog is sponsoring the blog hop and has four grand prize packages of 15+ books. Stop by my own blog to participate in a give away of three books: The Twelve Rooms of the Nile by Enid Shomer, The Seven Wonders by Steven Saylor and The Raven's Seal by Andrei Baltakmens. Enjoy and good luck.
As a holiday gift to my readers, check out the half-off coupon for Selene of Alexandria ebook at Smashwords only. Use coupon code VC53R until January 3. Enjoy.
Back from a wonderful trip to New Zealand and—totally by coincidence—have a guest post and giveaway by a New Zealand author. If like Dickens you'll like The Raven's Seal. Check out the post here.
November 2012
Survived Sandy. We've got power and heat. The subways are now coming back. Thanks to everyone who checked up on me and my family.
 September 2012
Guest post by Enid Shomer on her new novel The Twelve Rooms of the Nile on my blog. Stop by and comment for a chance to win one of two copies.
 August 2012
July 2012
June 2012
May 2012
April 2012
The Copperfield Review published my review of Charles Dickens' Little Dorritt. You can read it here.
Another wonderful review for Selene from The Atheist's Quill. I've pleased both Christians and atheists with my book, so I must have done something right.
Did a stupid thing while on vacation—fell and broke my wrist. In a cast till the end of May, so typing is restricted. [sigh]
March 2012
Published a free ebook Hypatia: Her Life and Times. A labor of love: a collection of all my Hypatia material. Available in all digital formats at Smashwords.com. Check it out and enjoy.
Posted a new piece on Hypatia in honor or Women's History Month: "Hypatia of Alexandria: The Primary Sources." Stop by and find out who's talking trash about our favorite Lady Philosopher.
I had a good response to the ebook special last week, so I'm extending the 50% off coupon through the end of March. Please use coupon code YL63B at checkout at Smashwords.com.
It's "Read an eBook Week" March 3-10 and there are lots of specials on several sites. Selene is half off at Smashwords.com (all ereader formats.) Stop by and use promotion code REW50 by March 10.
It's Women's History Month! Lots of great/notorious/interesting women on my blog. Check out biographies and essays about:
February 2012
A guest post by Glynis Ridley and giveaway of her book The Discovery of Jeanne Baret on my blog. Stop by and read about the first woman to circumnavigate the globe, a remarkable and little known botanist/explorer. Comment on the post and earn a chance to win a copy of the book (open through March.)
December 2011
November 2011
October 2011
Wonderful news! Selene of Alexandria was selected at the "Featured Author" pick by the Historical Fictionistas reading group on Goodreads.com. Members will be reading and discussing the book from October 15 – November 15. Thanks everyone!
September 2011
Another great review of Selene at Col Reads. Thanks so much, Colleen!
Sorry about the slump in September. I've been working on a rewrite and took a vacation, so slim pickins this month.
August 2011
Finished a first draft of my WIP–first century Roman with fictional characters this time: war, love, earthquakes and gladiators! Now for more research and rewriting.
Selene earned a Finalist in the Global eBook Awards! I couldn't make it to the awards in California but was there in spirit. Congrats to the winners.
July 2011
SusieBookworm also gave Selene a great review. Thanks!
Posted a new "History in the News" report on my blog. Check out the Bible stories, recovered artifacts, archaeological tech and much more.
The Book Garden blog gave Selene another great review. Thanks!
Back in March, I spoke at our local library about Hypatia for Women's History Month and taped the presentation. My crack video editor Hannah Rothman cut it down into three short Youtube videos which I've posted. Check them out and feel free to leave me comments. Thanks and please remember the camera adds ten pounds…and there was only one camera.
June 2011
May 2011
April 2011
March 2011
February 2011
January 2011 – Happy New Year, Everyone!
December 2010
The anniversary give away is closed. Congratulations to the winners!
One year anniversary give away! I'm giving away five copies of Selene in an international giveaway. Drop by my blog and enter.
Posted a new "History in the News: Italy's Woes, Roman Recycling and Forensic Genetics" on my blog. Find out how Pompeii is faring (not so good), how glass was recycled 1700 years ago, and if the "lost legion" wound up in China.
The book trailer is finally done and published. Thanks to Hannah Rothman for producing the trailer and Morgan Stehr for the gorgeous original music. Check it out here and leave a comment.
November 2010
I'm back with a brand new computer and all the headaches of reinstalling software, transferring files and learning a new operating system. Oh, and I have another cat to add to the menagerie. Ever try to type one-handed with a cat in your arms?
Posted a new review/analysis on Little Dorritt, a classic by Charles Dickens, on my blog. A must read for all Dickens fans or anyone who wants a meaty story with surprisingly modern themes. So little has changed in 150 years.
A "highly recommended review" of Selene came in from The Copperfield Review, a journal of history and fiction. Thanks!
Another great review and a give away of Selene from Historical Tapestry. What a great roll.
 October 2010
Things were a bit slow for me in October due to family issues. I'm afraid I'm in the "sandwich" generation and got squeezed by both my parent and offspring this month. On top of which, I was computerless for the entire month. November should pick up.
A wonderful five-star review for Selene from Lacuna: A Journal of Historical Fiction. Thanks so much!
September 2010
August 2010
July 2010
June 2010:
May 2010: