Book Review: The Princess Diarist
by Carrie Fisher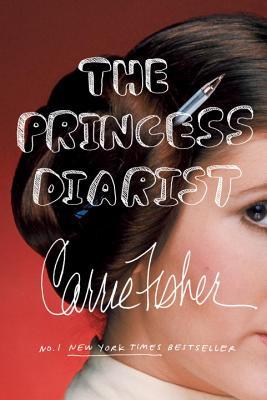 Most of my readers know about my dual fascination with both history and science and my love of fiction in both genres. I mostly blog about the history and science stuff, but also review books or movies about HF and SF/F. The new Star Wars movie is out on the origin story of Han Solo. I haven't seen it yet, but plan to. I probably won't do a movie review, but in the spirit of the time, I'll do my readers one better. I highly recommend reading The Princess Diarist by Carrie Fisher about the making of the original Star Wars (now "The New Hope-Episode IV" – ACK!) The memoir came out only two months before Fisher's death in December 2016 and over a year before her last movie Star Wars: The Last Jedi made it to the big screen.
This was a bittersweet read for me. I've been a Star Wars fan since I saw the original movie in theaters and duly indoctrinated my daughter when she came of age. Between us, we donated over 100 Star Wars books to her high school library when she left for college. Since then she's been trying to replenish my bookshelves each Christmas with a new Star Wars book and The Princess Diarist was 2017's entry. (2016 was a cute hard-backed comic book called Vader's Little Princess by Jeffrey Brown.)
My Review
I really like Carrie Fisher's writing. I've read her two earlier memoirs and she definitely has a unique voice and wonderful style—witty and poignant. It's sometimes hard to sympathize with "poor little rich girls" and their first world problems, but Fisher has a self-mocking, vulnerable attitude that fans and non-fans alike can relate to. Her well-known struggles with alcohol/drug abuse and bi-polar mental health issues put her in the same boat with millions of Americans. Her authenticity comes through in all her books.
Heralded as a "tell-all" book, forty years after the filming of Star Wars, Princess Diarist is much more than a tell-all and much less. Those readers looking for salacious details will be very disappointed. The 68 pages from the diary Fisher kept, while filming in London, show the promise of the writer she would become. They are raw and heart-wrenching; filled with poetry, stream-of-consciousness, and gut feelings; a cry for help from an insecure 19-year-old obsessed with an older married man.
Harrison Ford doesn't come off very well in the diary—cold, silent, emotionally unavailable—which seems to stoke Fisher's need to make a dent in his facade. I'm sure we all remember the raging emotions of our adolescence…and the regrets. Among so many self-insightful passages from those pages, this one pulled at the fan in me and asked "what if?":
"I'm sorry it's not Mark—it could've been. It should've been. It might've meant something. Maybe not much, but certainly more."
The diary section is book-ended by her knowing and witty observations nearly forty years later. In the beginning, we follow her through her early (reluctant) acting career and her dual audition for the roles of Princess Leia and Stephen King's titular Carrie, setting us up for her emotional state where the diary entries come in. After the diary she gives a much more nuanced analysis of her affair with Ford and takes responsibility for her own feelings. Ford comes off better:
"I don't think of Harrison in any way as a "womanizer." I think he was lonely in England. We were all lonely…At least I was."
I found her relationship with fans—particularly as she aged—to be complicated. Initially Fisher was dazzled by the attention, then somewhat resentful at being forever Princess Leia. With maturity, she saw more clearly the larger role her character played in the popular culture. In Princess Diarist, she tells us stories of disappointed fans who couldn't quite see Princess Leia in the middle-aged women she had become. But she always treated them with respect and good humor. Carrie Fisher seems to have a genuine affection for her fans if a mixed reaction to the character that defined her from early adulthood to her death. Here's a telling quote describing her reaction to hearing the news from her agent that she had been cast as Princess Leia:
"I laughed and dropped the phone and ran out into the front yard and into the street. It was raining. It didn't rain in L. A. It was raining in L. A. and I was Princess Leia. I had never been Princess Leia before and now I would be her forever. I would never not be Princess Leia. I had no idea how profoundly true that was and how long forever was."
Carrie Fisher's Legacy as Leia Organa
But it wasn't quite forever. The recent Star Wars trilogy ushered in a new phase for Carrie Fisher's character. Smart-talking, active Princess Leia transformed into the elder-icon of the Resistance and strategic leader General Organa. Unfortunately, Fisher never got to fully experience this transition. Just as the first movie in the new trilogy focused on Ford's character of Han Solo and the second on Mark Hamill's character of Luke Skywalker; the third movie in the series was to be Fisher's, wrapping up her story line and providing a fitting tribute to the character of General Organa. She died before filming, leaving the studio in a fix and fans hoping for a technological resurrection. That won't happen. After much wrangling and thought, the studio announced that whatever happens to Leia Organa in the third movie will be off-screen.
Carrie Fisher also died before the Women's March in January 2017, but Princess Leia/General Organa's spirit pervaded the massive world-wide crowds. In New York, I saw myriad Images and quotes from the character on signs. Women and little girls dressed up as the rebellious princess. People of all genders and ages chanted words of defiance. One of my favorite signs showed a picture of Robin Wright as Buttercup, the titular princess in The Princess Bride, next to an image of her as the Amazon General Antiope from Wonder Woman paired with pictures of Fisher as Princess Leia and General Organa. The caption read "I've lived to see my childhood princesses become generals." Fitting praise for a 19-year-old who soldiered through a turbulent life to bring wisdom and humanity to an iconic character. I would have loved to read Fisher's reaction to the transformation of Leia into a symbol of a real revolution. Something else to mourn.
The tribute video below shows some of my favorite lines delivered by the feisty princess. The character was a refreshing and long-overdue departure from the traditional fairy tale princesses I grew up with. The pervasive reach of the Star War franchise in our culture over the past 40 years ensured that little girls finally had a brave, smart, funny role model on the big and little screen—a role model Carrie Fisher brought to life and one that will live on long after her death.
I felt this book was a fitting memorial to a brave, intelligent and troubled woman, actress, and icon. RIP Carrie Fisher as your character and your words live on.