"Catherine de Medici: Renaissance Queen of France" by Leonie Frieda
Long, long ago in a youth far, far away, I read a biography of Catherine de Medici; so I was already familiar with her story. I have to admit, the details were hazy: I remembered something about poison, religious wars and that she was Mary, Queen of Scots' mother-in-law. Then a couple of years ago, my husband and I took a biking vacation  in the Loire valley and visited numerous castles and gardens along way, several associated with Catherine and her rival Diane de Poitiers; so I was reacquainted with the general outlines of her story. Which brings me to: Catherine de Medici: Renaissance Queen of France by Leonie Frieda.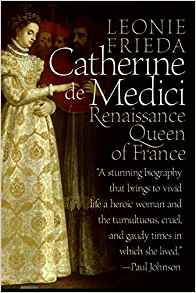 From the Introduction:
"Catherine de Medici has variously been called 'The Maggot from Italy's Tomb', 'The Black Queen' and 'Madame La Serpente'. To many she is the very incarnation of evil. It is, I believe, as mistaken a judgment as it is bigoted. Yet it is not far removed from the overall verdict of history on one of the most remarkable women of the sixteenth century."
The basics of Catherine's life: born Caterina Maria Romula de Medici on April 13, 1519 to Lorenzo II de Medici, Duke of Urbino and Madeleine de la Tour d'Auvergne a royal-blooded French countess and heiress. She married Henry, Duke of Orleans, second son of King Frances I of France when she was fourteen and became Queen of France when her husband succeeded to the throne in 1547. She gave birth to ten children, seven of whom lived to adulthood. Three of her sons ruled as King of France, one daughter ruled as Queen of Spain and another as Queen of Navarre. Catherine died in 1589, just short of her 70th birthday.
Those are the bare facts and only hint at the fascinating story of Catherine's life. She was one of the most powerful people (man or woman) of her times; and those times were fraught with religious divisions, territorial wars and internecine politics. She was an enormously complex woman: well educated, sophisticated, erudite, and tremendously superstitious; politically astute, a fanatically hard worker and a glutton; ruthless with enemies, generous with friends and blind with her family. In a time when women legally couldn't rule because of the Salic law, Catherine did rule as regent during her sons' minorities and as their agent and representative during their majorities. She prosecuted war, negotiated peace, arranged treaties and marriages, raised money, placed ministers and oversaw intelligence gathering. Her descendants continued to rule through-out Europe down through the centuries.
Catherine's life was marked with sadness and tragedy: orphaned as a baby, threatened with murder as a child and a political pawn of the Pope (her uncle.) She made a place for herself at the French court, in spite of being publicly shamed by a husband she deeply loved. Henry II's attachment to his much older mistress Diane de Poitiers is one of the enduring stories of the times. Upon her husband's accidental death, Catherine came into her own. And finally, although she enjoyed excellent health, all her sons were sickly and none could be the king the times needed. Of her ten children, she outlived all but two, and her favorite Henry III followed her within months. Her sons' early deaths actually spawned spurious rumors that she poisoned her own children to retain power.
Which brings us back to the author's purpose: Frieda, in her forward, talks about how she wanted to shed some light on this remarkable woman and reassess her place in history. I believe she did a good job. The research is rock solid and the analysis logical. The author lays out a story of a family enmeshed in turbulent times. The politics of France and the surrounding countries are deftly woven into the narrative. Catherine's reputation was blackened during her life and after death—particularly her culpability in the St. Bartholomew's Day massacre, where thousands of Protestants were murdered—but Frieda does an excellent job refuting the slander and putting the massacre in historical context.
In summary, I enjoyed this book. The language is accessible to the lay reader and not at all "scholarly." The story progresses with rich detail. As with any biography covering a long-lived person in a huge political theater, the cast of characters can become overwhelming. It helped to have the genealogies in the front and the pictures of several of the main actors. I have to admit, over the generations, characters blurred into "the Guises" and "the Huguenots," among others, but that's my problem, not the author's. Catherine de Medici is an entertaining biography of a woman who deserves to be as well-known as her contemporaries: Elizabeth I of England and Phillip II of Spain.
Title: Catherine de Medici: Renaissance Queen of France
Author:  Leonie Frieda
ISBN: 978-0-06-074493-9
Publisher: Harper Perennial
Format: Trade Paperback edition (2006)
Length: 440 pages with index and notes