The Confessions of Young Nero
by  Margaret George
The blurb:
"While Nero idealizes the artistic and athletic principles of Greece, his very survival rests on his ability to navigate the sea of vipers that is Rome. The most lethal of all is his own mother, a cold-blooded woman whose singular goal is to control the empire…Nero's determination to escape her thrall will shape him into the man he was fated to become—an Emperor who became legendary. With impeccable research and captivating prose, The Confessions of Young Nero is the story of a boy's ruthless ascension to the throne. Detailing his journey from innocent youth to infamous ruler, it is an epic tale of the lengths to which man will go in the ultimate quest for power and survival."
My Review
Because Nero is a minor character in one of my books (Sword of the Gladiatrix) and plays a more impactful role in the upcoming sequel (Song of the Gladiatrix), I was curious to see how George would handle this fascinating and controversial figure. The Confessions of Young Nero is set in the period considered by some historians to be Nero's "sane" period (even though it included his infamous murder of his mother). His early life, especially under the influence of the philosopher Seneca and other older mentors, showed much promise. As he grew older and more independent, his choice of companions grew more reckless and his actions less excusable.
George, in her "Afterword," says she is trying to reclaim history for this very misunderstood ruler. In this first volume, I think she succeeded. In a first person account, she does an excellent job of showing the context and trauma of a child tossed in turbulent times, the angst of an artist forced into the role of strong ruler, the profound hurt of personal betrayals and losses, and the headiness that comes with absolute rule. These can all lead to the aberrations that we see in Nero's later years. George shows us Nero's enlightened side. He did many worthy things in his early rule. He was a generous and compassionate ruler (to ordinary citizens-his relatives, not so much), dedicated artist, and innovative city planner. It will be interesting to see how George follows through in her next volume when Nero's life begins to run off the rails.
I liked this book, but didn't love it. I found the history fascinating and share George's assessment that the popular view of Nero misses the mark. Her writing is lyrical, and descriptions lush; but the story languorous. It moved too slow for me. (People who follow my reviews know I have a preference for fast-paced fiction, so if you're tolerant of slow-moving plots, bump my recommendation up a bit). When I had only forty pages left, I stayed up late to complete the book, but found myself nodding off, then skimming because nothing happened in those pages until the last couple. George sets up the second volume with an ominous prediction from a Sibyl: "Fire will be your undoing" and ends Confessions with Nero racing toward the burning city of Rome.
I will read the sequel, but more for the history than the story. I already know how it ends.
Check out this video of Margaret George talking about her journey in writing The Confessions of Young Nero:
The Details:
Title: The Confessions of Young Nero
Author: Margaret George
Publisher: Berkley; First Edition edition (March 7, 2017)
Formats: Hardcover, paperback, eBook, audiobook
ISBN-10: 0451473388
ISBN-13: 978-0451473387
About the Author: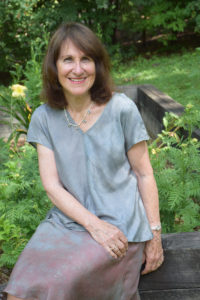 Margaret George writes biographical novels about out-sized historical characters: Henry VIII, Mary Queen of Scots, Cleopatra, Mary Magdalene, Helen of Troy, and Elizabeth I. Her latest, The Confessions of Young Nero, will be published in March. All six of her novels have been New York Times bestsellers, and the Cleopatra novel was made into an Emmy-nominated ABC-TV miniseries.
She especially enjoys the research she has done for the novels, such as racing in an ancient Greek stadium, attending a gladiator training school in Rome, and studying the pharmacology of snake poison.