Hag Seed
by Margaret Atwood
The Blurb:
Felix is at the top of his game as Artistic Director of the Makeshiweg Theatre Festival. His productions have amazed and confounded. Now he's staging a Tempest like no other: not only will it boost his reputation, it will heal emotional wounds. Or that was the plan. Instead, after an act of unforeseen treachery, Felix is living in exile in a backwoods hovel, haunted by memories of his beloved lost daughter, Miranda. And also brewing revenge.  After twelve years, revenge finally arrives in the shape of a theatre course at a nearby prison. Here, Felix and his inmate actors will put on his Tempest and snare the traitors who destroyed him. It's magic!  Margaret Atwood's novel take on Shakespeare's play of enchantment, retribution, and second chances leads us on an interactive, illusion-ridden journey filled with new surprises and wonders of its own.
My Review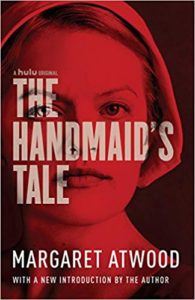 I love Margaret Atwood and have read nearly everything she's written. She's experiencing a renaissance now because of the Hulu award-winning TV series based on her 1986 dystopian novel The Handmaid's Tale.If you've wondered way some women have been showing up in full-length red gowns and white bonnets to protest legislation limiting a women's right choose or other restrictive laws—this book/show is why. If you haven't read the book—you should. But I digress…
Hag Seed (a reference to the "monster" Caliban) did not disappoint. The publisher, Hogarth Books, is putting out a series of novels by famous authors retelling Shakespeare's plays. I've read two others in the series and this one is my favorite—so far. Atwood drew "The Tempest" and gave us a workman-like effort with touches of whimsy. She employs the "play within a play" trope where the main character Felix/Prospero is teaching and directing "The Tempest" in a prison literacy program, while simultaneously living out the plot of the play.
And that plot is revenge! Specifically on Tony/Antonio, who turfed him out of his job as director of a major festival twelve years before. All the major characters are there in their dual roles in Felix's life/play. Felix even lives in an underground house/cave for the twelve years of his disappearance/exile and teaches at a prison/island. The whimsy comes with how Atwood handles the role of Miranda. A flesh and blood former gymnast/dancer/actress and current barista takes on the role for the prison play while Felix's fantasy (ghost?) daughter (named Miranda), who formerly only hung out at the cave, comes along for the play and shadows the prisoner playing the role of the sprite Ariel.
Hag Seed is a master class in "The Tempest" and I enjoyed every lesson. We get to study the plot, characters, and themes of the play on several levels: through Felix's eyes, with the inmates, and in Atwood's overall creation. Atwood/Felix as teacher does a thorough job in exploring all the various themes (revenge, love, prison, etc.) and character development even to what might happen to the major characters after the play ends. This was a thoroughly enjoyable read and made me eager to see "The Tempest" again. Maybe the one with Helen Mirren as Prospera?
Note: I received this book through an early reader program in exchange for an honest review.
Here's Margaret Atwood speaking about Hag Seed:
The Details:
Title: Hag Seed
Author: Margaret Atwood
Series: Hogarth Shakespeare
Format: Hardcover (320 pages), Paperback, eBook, Audio book
Publisher: Hogarth; First American Edition edition (October 11, 2016)
ISBN-10: 9780804141291
ISBN-13: 978-0804141291
About the Author
MARGARET ATWOOD, whose work has been published in over thirty-five countries, is the author of more than forty books of fiction, poetry, and critical essays. In addition to The Handmaid's Tale, her novels include Cat's Eye, shortlisted for the Booker Prize; Alias Grace, which won the Giller Prize in Canada and the Premio Mondello in Italy; The Blind Assassin, winner of the 2000 Booker Prize; and her most recent, Oryx and Crake, shortlisted for the 2003 Booker Prize. She lives in Toronto with writer Graeme Gibson.