The Romanov Empress: A Novel of Tsarina Maria Feodorovna
by C.W. Gortner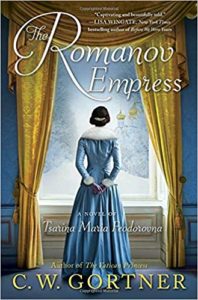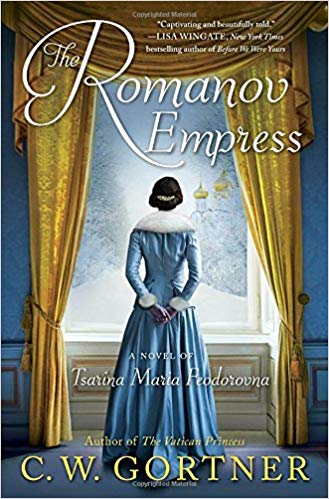 Blurb: "Narrated by the mother of Russia's last tsar, this vivid, historically authentic novel brings to life the courageous story of Maria Feodorovna, one of Imperial Russia's most compelling women, who witnessed the splendor and tragic downfall of the Romanovs as she fought to save her dynasty in its final years…From the opulent palaces of St. Petersburg to the World War I battlefields and the bloodied countryside occupied by the Bolsheviks, C. W. Gortner sweeps us into the anarchic fall of an empire and the complex, bold heart of the woman who tried to save it.
My Review:
C. W. Gortner has hit another one out of the park with his newest historical novel The Romanov Empress: A Novel of Tsarina Maria Feodorovna. The book ranges over half a century from the eve of the protagonist's sister's wedding to the heir to the British throne (1863) to her dramatic escape from civil war-torn Russia (1919) aboard a British battleship. Gortner takes us on a heart-rending journey through the life of the woman born Princess Marie Sophie Frederikke Dagmar ("Minnie") of Denmark. She took the name Maria Feodorovna when she converted to the Russian Orthodox Church, married the heir to the Russian throne Alexander II and became the mother of the last Tsar of Russia Nicholas II. Minnie is an appealing character and much less known than her daughter-in-law Empress Alexandra. My only acquaintance with her was as the white-haired aristocratic grandmother in the animated Disney film Anastasia.
As with all European royalty, Minnie is entangled in  multiple webs of relationships. Before WWI, all royals seemed to be cousins of one kind or another. The key one to keep track of in this story is Minnie's close relationship to her older sister Alexandria ("Alix"), who became Queen of England when Queen Victoria died and Queen Mother when her son King George V took the throne. (Making Alix a great-grandmother to the present Queen Elizabeth). The two sisters shared a pastoral childhood with their siblings, who all became monarchs or married into royalty. (Their brother William became George I of Greece and grandfather to Prince Phillip.) I was constantly flipping to the genealogy charts that were thoughtfully placed in the front of the book. Minnie, Alix and their families vacationed together. The sisters consoled each other during times of trial and loss, advised one another and, in the end, Alix saved her sister's life. Their sons Nicholas II and George V met frequently, were friends, and had a remarkable physical resemblance. There is some evidence that George V tried to rescue his cousin after his abdication from the Russian throne, but that obviously fell through.
This story is bittersweet because we know the tragic ending to Nicholas II and his family. We know as Minnie builds relationships, tries to moderate her husband's and daughter-in-law's actions, and strives to hold the monarchy together through assassination attempts and civil wars, that her efforts are doomed. Here is where Gortner excels. It's hard to build sympathetic characters when they seem to have all the advantages of birth, wealth, and power. After all, one person's beloved son and grandchildren are another person's corrupt, blood-soaked tyrant and useless leeches on society. Minnie and her extended family come across as real people with strengths and flaws; trying to survive and protect their families in dangerous times.
The author did a great job in keeping to the actual events in these historical lives. Gortner provides an informative "Afterword" in place of an author's note, in which he tells us the fates of the surviving characters and lists his most useful resources. As we know from DNA testing, Princess Anastasia (far right in the above photo) did not survive the massacre of her family in Russia, despite the happy ending in the Disney movie and Broadway play. In addition to the helpful genealogical charts, the publisher provided useful maps of Russia and St. Petersburg. Like all good historical fiction, I learned a lot about people and a time I had only a passing acquaintance with, while enjoying a great read. Highly recommended.
Please note: I received an Advance Reader's Copy from the publisher in exchange for my honest review.
The Details:
Title: The Romanov Empress: A Novel of Tsarina Maria Feodorovna
Author: C. W. Gortner
Publisher: Ballantine Books (July 10, 2018)
Formats: Hardcover (448 pages $28), eBook ($13.99), Audio book ($29.95)
ISBN-13: 978-0425286166
C. W. Gortner discusses his penchant for writing about controversial historical women and their influence on today's world.