"The Seven Wonders" by Steven Saylor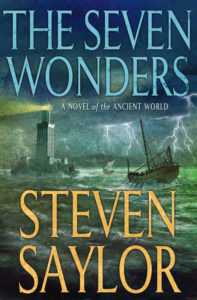 Gordianus the Finder is back in this prequel to Steven Saylor's popular series of mysteries set in the Roman Republic of Cicero and Caesar. Gordianus is eighteen and embarks on the First Century BCE equivalent of a "Grand Tour" with his old tutor and famous poet Antipater of Sidon. As the Italian peninsula simmers with rebellion, the pair head east to visit the Seven Wonders of the World encountering murder, mysteries and political intrigues. Over the course of their year-plus journey, Gordianus evolves into "the Finder" series readers have come to know and love.
For the record, I am not a Gordianus fan. I very much enjoyed Saylor's multi-generational epics Roma and Empire, which I reviewed, but didn't take to the couple of Finder novels I sampled. Not because they were bad books, but because I'm not that into historical mysteries. Every reader has her quirks. This book has a distinctly different structure from the others. Saylor uses the journey to visit the Seven Wonders as a framework for several short stories (many of which were previously published in mystery and fantasy magazines.) Each Wonder gets a story with a few interludes, such as attending the Olympic Games and visiting the ruins of Corinth, resulting in ten chapters dealing with murder, witchcraft, ghosts and gods. As their journey continues, a larger mystery entangles Gordianus and Antipater with spies and other enemies of Rome.
But the real story is the evolution of the Gordianus character. He comes of age during these stories. His powers of observation and deduction sharpen as his naiveté concerning the greater world lessen. Saylor does a good job of portraying this young man in a strange land, struggling with another language and gradually coming to understand that the might of Rome is not always a protection among conquered peoples. But also like any young man abroad, he experiences a sexual awakening. He sleeps with his first woman, his first man, a priestess and (possibly) a goddess. By the end, he has grown into a capable man who earns the name "Finder."
One of the things I admire most about this book is the incredible research and description of the Wonders and the cities Gordianus and Antipater visit. As Saylor says in his Author's Note: "To explore the Seven Wonders, one enters a labyrinth of history, legend, hard facts and half-facts, cutting-edge archaeology and the very latest innovation in virtual reality." He does a great job of bringing the locations alive and seamlessly incorporating history into the narrative without bringing the stories to a screeching halt. Each Wonder is given its due with historical accuracy and vivid description. For this alone, I'd recommend the book. For Gordianus fans, it's a must read.
The Details:
Title: The Seven Wonders: A Novel of the Ancient World
Author: Steven Saylor
ISBN: 978-0-312-35984-3
Publisher: Minotaur Books, 2012
Format: Hardcover with dust jacket, 321 pages
Price: $25.99
Note: The publisher provided a free copy of this book, but the opinions expressed in the review are my own and not in consideration for the book.
Giveaway Details:
Thanks to Minataur Books for providing two copies for the giveaway. Entry is easy: leave a comment on this post by midnight EST Saturday, July 21 (email not necessary in the post). If you want a second entry, sign up to follow the blog or indicate you're already a follower. For a third chance, repost this giveaway on your Facebook, blog, Twitter, website, etc. and post the link in your comment. Don't worry if your post doesn't appear immediately, because I moderate comments and don't spend my life at my computer. I'll randomly select the two winners and announce it on Sunday, July 22.  Good luck!
And the winners are:
VPupkin
Cindi
Jolene  (bonus–I'm giving away my review copy)
I'll be in touch shortly re addresses for shipping.
Thanks to everyone who participated!