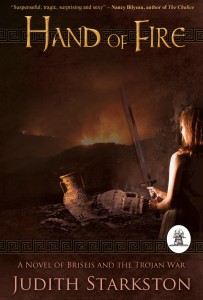 Book Review and Giveaway:
"Hand of Fire" by Judith Starkston
I get pitched a lot of books. I usually accept about one a month. I like most of them and write a paragraph or two on GoodReads.com, LibraryThing.com or Amazon.com. A very few get the full blog treatment. Hand of Fire by Judith Starkston is one of those I want to enthusiastically share with my fellow readers. Her novel has all the elements I look for in historical fiction: compelling characters, engaging plot, and fascinating setting.
About the book:
The Trojan War threatens Troy's allies and the Greek supply raids spread. A young healing priestess, designated as future queen, must defend her city against both divine anger and invading Greeks. She finds strength in visions of a handsome warrior god; will that be enough when the half-immortal Achilles attacks? Hand of Fire, a tale of resilience and hope, blends history and legend in the untold story of Achilles's famous captive, Briseis.
My review:
I have a weakness for stories that shine a light on little known women or give silenced women a voice in the way Anita Diamant spoke for the biblical Dina (Joseph's only sister) in her wildly popular The Red Tent. Starkston takes a similar approach through the story of Briseis. In the Iliad Briseis has only a handful of lines, yet she is a pivotal character in the narrative arc of the classic poem, sparking a rift between Achilles and Agamemnon that almost brings the Greek war against Troy to ruin. In the poem she expresses her love for Achilles in spite of the fact that he killed her brothers and husband, sacked her city, and reduced her status from princess to slave. A tall order to build a believable scenario where that could happen! Starkston does a beautiful job taking the slender clues about Briseis' life and times and building believable characters. Briseis matures from an uncertain girl to a woman capable of determining her own destiny in this engaging story. (more…)